As small businesses look to the upcoming year, keeping an eye on emerging trends that can have a significant impact on your company is essential. Given the ever-changing digital landscape, this won't be easy, but with a little proactive planning, small businesses can leverage the right tools and strategies to make 2023 successful.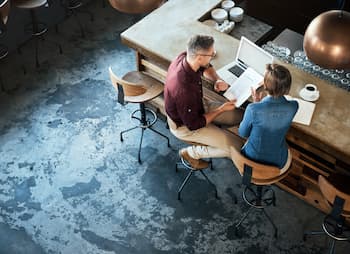 Here are the key small business trends for 2023 that you should anticipate and be prepared for.
Artificial intelligence (AI) to enhance your small business
According to a recent survey of company founders, the most common trend for 2023 is Artificial Intelligence (AI). AI technology has revolutionized the business landscape, creating platforms and tools that can automate repetitive tasks, streamline processes, provide customer insights, and even generate personalized content. For small businesses especially, AI can offer a much-needed competitive advantage by helping them operate more efficiently and increase their productivity through advanced analytics and real-time customer data.
Get a jump on this trend by learning about what AI can do for your company. Investigate tools like chatbots and automated direct messaging to improve customer experience and response times.
Data security in the age of cybercrime
In a time when malicious hackers can access customer information with a few clicks, data security should be at the top of any small business owner's priority list. Security protocols are no longer optional. Data privacy state laws are being initiated or updated, and companies failing to protect data incur significant fines for breaking them.
Start by investing in measures like two-factor authentication, strong passwords, and secure servers to keep sensitive customer data safe.
E-commerce and its impact on brick-and-mortar business
Brick-and-mortar small businesses are feeling the impacts of the seismic shift away from physical stores as more and more customers continue buying online. In the United Kingdom (UK), over 80 percent of the population makes e-commerce purchases, or to put it in other words, over four in five UK consumers are digital buyers. Over the last couple of decades, online shopping has become ubiquitous, not just in the UK, but worldwide; moreover, the numbers are still growing. By 2025, for example, the penetration rate among the country's consumers is expected to reach a projected 90 percent.
Keep up with the trend by setting up an online store if you haven't already or by streamlining your e-commerce site with your POS system. There are more than a few great options available that are so popular, even your customers recognize their names.
Social media marketing is huge trend
As we rapidly progress towards a more interconnected society– social media marketing has become a vital part of small business operations. While it remains a cost-effective way to access current customers, small businesses are now able to reach audiences far beyond their local communities and engage people globally via paid social media, Instagram direct messaging and Facebook groups.
Stay ahead of the curve by investing time and resources in developing and executing a video marketing campaign. With access to powerful tools such as targeted ads and analytics tracking, you can create effective strategies that will generate results.

Even if you don't have a full Social Media team, having just a presence of relevant and high quality posts is a must.
The increasing importance of sustainability and green initiatives
Companies like Patagonia, IKEA, and Nike have successfully developed sustainability strategies to limit their carbon footprint, reduce energy costs and appeal to a growing eco-conscious consumer base. According to the World Economic Forum, sustainability reduces costs, can affect operating profits by up to 60%, and increases productivity. Plus, your customers are paying attention. As it currently stands, only 8% of people in the UK do not concern themselves with sustainability in their consumption habits – while 61% said they were either concerned, or very concerned. 
Your small business can join the movement, helping to create a more sustainable economy. Don't know where to start? Check in with your local environmental agency to make sure you're in compliance with regulations. This will help you zero in on areas for immediate improvement while opening up the conversation with experts who can help your business target energy-efficiency improvements, reducing carbon emissions, and even day-to-day practices like composting. Prioritizing sustainability will help your business stand out from the crowd and ultimately benefit both you and the planet.
Make being proactive your top priority
The bottom line is with a combination of trend research, contingency planning, and an eye for innovation, your small business can evolve and adapt to make 2023 your best year yet. From the rise of AI and adopting data security protocols to keeping current with social media and sustainability initiatives, it is important for you to think proactively and stay ahead of the game.
Want to learn more or book a shipment? Check out our socials, give us a call, or drop us an email. Or, head to our main website here.