Strategically reducing costs during slow seasons will make your small business more profitable year-round. And while it is easy to get carried away when you see decreasing revenue numbers, especially after a busy christmas season, cutting costs doesn't have to mean taking drastic measures. The key is knowing where and how to find savings without impacting your ability to provide quality service or products.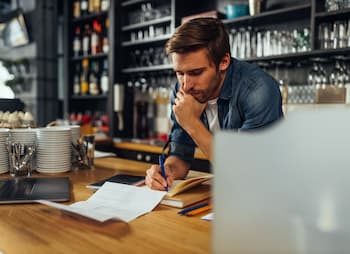 Review and analyze your expenses
You'll need to know where you're spending to cut costs effectively. Ideally, you'll have kept a good record of all your business expenses and transactions in an accounting system for at least six months, if not more. Having cost data properly stored and readily available will help you manage your cash flow, save time, and make business decisions.
Review and analyze your business spending by asking: What expenses do you have that aren't necessary? Is there anything you can eliminate? If so, how much would that save per month? Examine each category of expense – operations, utilities, property leases, internet bills, phone bills, vendor contracts, and employee business expenses. You will find that some categories have higher spending than others and could be reduced without affecting your overall business.
Five Ways to Reduce Costs for Your Small Business
Managing inventory can be costly unless you can determine the right reorder points for your small business and efficiently eliminate old inventory. Knowing when and how much to buy will reduce costs while offering excess inventory at a discounted price can bring in a much-needed cash injection.
2. Negotiate with lenders and suppliers
If you have a loan or lease, it's worth asking for a better interest rate or lower monthly payments. If you're paying off debt and have been for some time, try negotiating with the lender on paying off your debt early. Likewise, negotiate with suppliers to receive volume discounts or long-term incentives.
3. Get creative with your product offerings
Consider grouping multiple products and services to create a bundle. You can then sell the bundle for one price, enticing customers to buy at a discounted rate. Purchases may mean a lower cost per unit, but bundling is a successful way to boost sales and move through inventory.
4. Cut back on marketing expenses
Keeping good records of spending and ROI (return on investment) is essential when deciding where to cut back on marketing expenses. Depending on your marketing strategy, it might be a good time to stop ad spending and utilize free tools such as social media and email marketing to promote your business organically. Experiment with video marketing techniques which can be done on a small budget and yield a significant ROI.
5. Use technology to reduce costs
Using technology creates many benefits while also reducing costs. Implementing assets like accounting software, cloud computing, and CRM (customer relationship management) systems will improve customer service and efficiency–two things that will ultimately reduce costs and grow revenue.
Small changes can make a big difference
While these suggestions may seem small, they can make a big difference in helping your business through the slow season. Take advantage of the time to keep an eye on your bottom line, stay within budget and maximize sales even during a predictably slow season.
Want to find out more or book a shipment with us?
Email us, Call us or Follow our Socials.
Check out our main (soon to be updated) website here.